Please feel free to ring for advice 0410312766




Power Your Home for 24 Hrs with Solar Today !

Solar Deal this month*
25year warranties

| | |
| --- | --- |
| 5kW | ___$6800.00 |

The Storage Revolution Has Arrived

Installing a hybrid solar power system will enable your grid connected solar power system to provide electricity to your home 24 hours a day via a suitably sized battery storage bank.

As your solar system should have paid for itself with it's feed-in tariff it is now time to invest in battery storage. We now have a battery  pack that will last 16 years  and is the main competitor to Tesla. Which sold so many units in the USA, who know when it will arrive in Australia.

Imagine using all your solar power for the home.
Never pay peak power rates again.

Your home powers itself  if the grid goes down.

Monitor your home from your mobile phone .
Keep selling your solar .60c Kw Hrs to the grid
but run the home on battery's powered by .9c "off peek"

Install for free and pay as little as $37.00 a week.
   Which is less than you'd be paying in peak power costs.

Want a new solar system? we have 9 different systems which will be battery ready
if you wish to upgrade the future.

Want a greater than 5kw system and still stay single phase and export to the grid we can do it!
How it works SMA's sunny island or Schneider Electric Conext XW+ system or
Fronius Energy Package or SPPro Slectronic or Bosch BPT-S 5 Hybrid Solar Inverter etc
Lithium Battery Storage Solution The most affordable storage system available today.
This unbelievable offer includes:
5kw of Tier 1 panels, hybrid inverter and 5KwHr GCL Lithium Battery


0r

Sungrow SH 5K Hybrid Inverter LG Chem RESU 10 EX lithium battery storage that's 6.4kWh of storage. 19 x Tier 1 260watt solar panels. Australian solar framing.
Full installation by our own installation team
0r
Up grade your old system add more panels or new hybrid inverter /batteries
or just the battery and battery controler ...confused just give use a ring.
Our goal is to help you to save money by:
1.Green audit to lower your usage.
2. Accessing the cheapest power time zones.
3.Advise on different technology.
4. Then options of solar powering your home.
We design or upgrade homes for sydney architects in all areas including insulation, lighting, passive cool/ heating . Talk to an RE expert not a sales man!
Solarwind Technology is a company situated in Sydney. We have been selling renewable energy solutions for 12 years. We specialize in the design, supply and installation of solar power systems, wind turbines , Solar Hybrid and Stand a lone. We are a small group of dedicated professionals who will help you with any issues in reducing your carbon foot print or a more sustainable household. Our quest is to give our customers the highest quality system at a competitive price. We can source most solar panels and inverters available and with your input can design a system to meet your needs


What We Do : We install Quality!!!
- Arrange a Free Personalized assessment of your home or office
- Discuss your requirements and expectations
- Design your system usually with several options
- Prepare a quotation including all associated costs
- Organize a paperwork for Feed In Tariff Meter and installation
- Arrange an appropriate Installation date
*install dependent on roof size,height & STC's @$37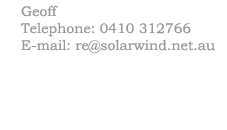 One earth

The stone age didn't end because we ran out of stones...