*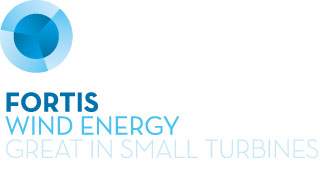 Wind Power
Fortis Wind Turbines
Fortis Wind Energy turbines are used all over the world. This can be done because they are easy to install and maintenance free. All materials we use are stainless steel, plastics or galvanised metal, so it will last for 20 years. We even have had clients coming back after 22 years for their second turbine.
Alize - 10 kW
Our largest small wind turbine model is the Alize. With 7 meter span blades this wind turbine provides a maximum power output of 10 kW. The Alize is most often used for telecommunication sites or for farmers, who want to save on their electricity bill.
specifications of the Alize wind turbine
Montana - 5 kW
Montana powering BMW
More about this turbine
With its 5 meter span this wind turbine has a maximum power output of 5 kW. For private people with a high electricity use this is the turbine. The Montana is a small wind turbine most often used by private individuals who want to save on their electricity bill or who want to become independent from the electricity grid.
specifications of the Montana wind turbine



Passaat - 1,4 kW
Saving significant energy in a home. The Passaat wind turbine has a maximum output of 1,4 kW and a span of 3,12 meters. The Passaat is used for power saving at private homes, water pumping in remote locations and for empowering satellite communication systems.
specifications of the Passaat wind turbine


Wind Turbines on Roofs
The all turbines can be mounted on flat roofs, providing that the roof is strong and stir enough.
Some sites outperform form solar 3/1
Experience Quality Performance
We at Solarwind have installed a lot of turbines and to often had maintenance problems and or didn't performance as expected.
We don't waste your and our '"time and money".
Our Fortis relationship brings local and international team with over 25 years of experience in seamless installation ,project management, advice and guarantees at a low price. A close synergy with SMA head office were windyboys are tested on Fortis. We're a market leader with more than 6000 installed wind turbines world wide and accredited wind installers by the clean energy council.

Solar tracker for 3.8, 5 to 10 kW
Solar trackers our yielding up to 110% in summer over a standard fixed position solar PV install. Averaging over the year 40-70% depending of site